About the Project
R.S. Foundationis driving a transformation in the government schools' ecosystem by introducing curriculum-based digital integration, at a large scale, with proven learning outcomes. The deployment of its program, in partnership with English Helper is ensured by leveraging the existing teaching-learning tools, human and tech resources.
In March 2021, the Department of School Education, Government of Punjab in collaboration with R.S. Foundation and EnglishHelper announced the launch of ReadToMe® in all 19.5K government schools across Punjab. A total of 3.2 million students, from classes 1 to 12, across the state, stand to benefit from the EBC-Extension Programme.
Introduction to ReadToMe®
ReadToMe®, a multi-sensory reading and comprehension AI platform, helps and and assists students in reading their English textbooks both in the classroom and at home.
EnglishHelper has introduced ReadToMe®, across thousands of government schools in India and abroad.
The implementation of ReadToMe® is based on the tenets of minimum and sustainable change:
Integrated with the curriculum – ReadToMe® software is 'trained' to read prescribed English textbooks. It is used by teachers during school hours to teach the same textbook but on an enhanced platform.. This supports teachers to achieve their curriculum and syllabus goals without having to teach extra hours.
Teacher is the leader – ReadToMe® enabled classes ensure that the teacher continues to play a pivotal role in class. This is very important for the success of the program.
Teacher effectiveness is enhanced – ReadToMe® de-mystifies English phonics and makes reading English textbooks easy and fun. Students are engaged and teachers' capacity and effectiveness is enhanced.
The LearningLoop™ – When teachers use ReadToMe® in class, students engage more with ReadToMe® (Android app) at home. This combination of learning in the classroom and self-study closes the LearningLoop™ leading to enhanced outcomes.
Investment Optimization – Existing IT infrastructure is utilized for implementing the program. ReadToMe® can be used offline and online. Any school can easily implement ReadToMe® enabled English classes with 1 PC/ laptop with Projector, smartboard or a TV.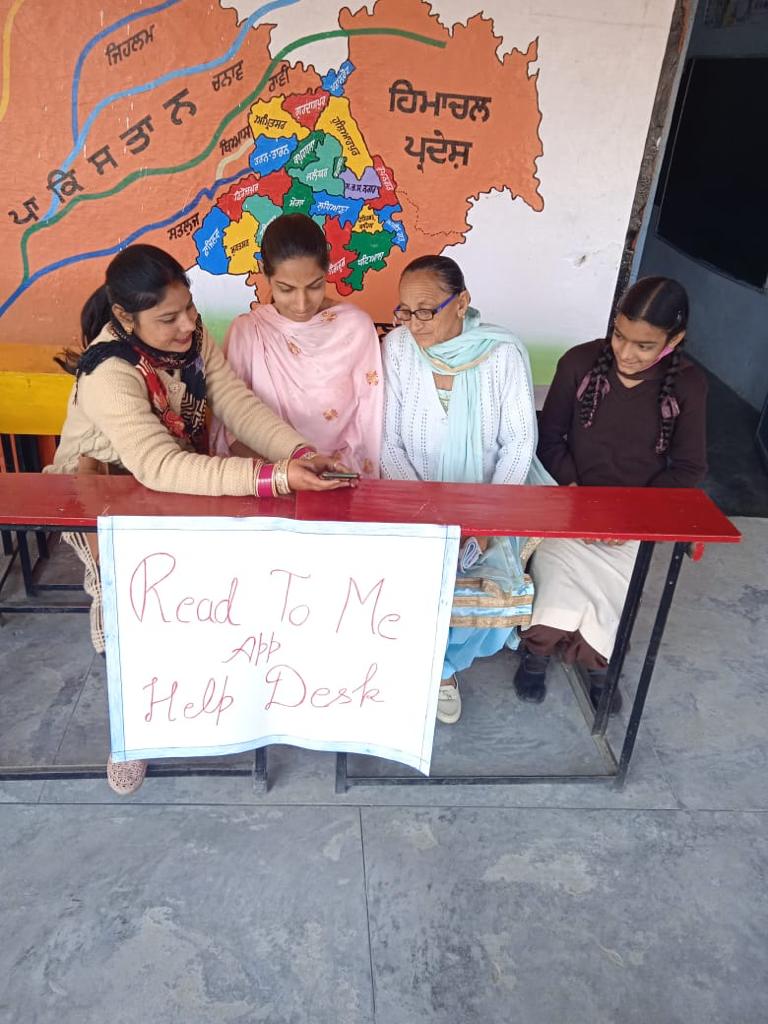 Solutions Deployed in Punjab
As part of the EBC-Extension Programme, ReadToMe School Edition is being implemented in all 19,550+ government schools. ReadToMe School Edition deployed in classrooms makes technology-enabled reading possible for millions of students in schools across the state. It helps enhance students' reading comprehension skills and increases teacher effectiveness.
Access to ReadToMe Student Edition (Android app) has been provided to all 3.2 millionstudents in these government schools. The app complements teacher-led learning at school by providing the required academic support to students at home. Students can revise their English textbooks on their own, assisted by the software.
To know more about the project, please contact us at contact@rsfoundation.org.in.