A not for profit, philanthropic organization, the RS Foundation is driven by the tenets of Empathy, Empowerment & Education. The Foundation was set up on 25th June 2020 in memory of Shri Rakesh Singh, IAS (1955-2020) by his family.
supports the needy and under-privileged facing health challenges specially those diagnosed with neurological issues
reduces the digital divide
works on environmental issues.
You can write to us at contact@rsfoundation.org.in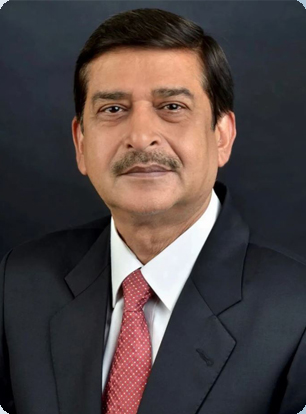 Rakesh Singh belonged to the 1978 batch of the Indian Administrative Service. He served in the Punjab cadre and rose to be Chief Secretary of the state (2012 -2014). He retired in 2015 as Secretary to Government of India, Ministry of Steel. Earlier, he worked as Additional and Joint Secretary in the Ministry of Finance in Departments of Financial Services, Revenue and Banking.
He also worked as
Chairman, SAIL
Chairman, NABARD, and Chairman LIC
Government Nominee, Director on the Board of Andhra Bank, Punjab National Bank, EXIM Bank, SIDBI, IDBI Bank and GIC
Rakesh Singh was known for his transparent style of working, exceptional clarity of thought, and quick decision-making. He held an unblemished record for integrity, serving as a bureaucrat for 37 years. In a world defined by dualities and polarities he was known to be impartial, unambiguous and non-partisan. An effective administrator with exceptional qualities of head and heart, Rakesh Singh was a man who had unwavering courage of conviction, and the rare capability of being able to say no.
Born on 8 September 1955 in Ghazipur (UP), Rakesh Singh was the child of Smt. Kamla Devi & Thakur Ram Adhar Singh, a police officer. He completed his schooling at the Colvin Taluqedar's College, Lucknow, and topped the University of Allahabad where he pursued MA in Modern Indian history. He later went on to do Master's in Economics and Social Sciences from the University of Manchester, UK. By sheer dint of merit Rakesh Singh went on to join the IAS.
A supportive son, a loving and caring husband, father and grandfather, Rakesh Singh was a keen bonsai enthusiast. He maintained a collection of close to 300 plants and personally took care of each one of them.
Rakesh Singh married Vandana Singh in 1980 in Dehradun. They have two sons, Karan & Arjun.
Following a brain stroke in 2016, at the age of 61, Rakesh Singh passed away on 1 February 2020.
The RS Foundation was set up in June 2020 by his family to keep Rakesh Singh's memory alive by supporting the needy and under-privileged facing health challenges specially those diagnosed with neurological issues as well as other areas.
Dr. Vandana R. Singh, Managing Trustee
Author, Literary Translator, Language Educator
Dr Vandana R Singh has over 35 years of experience in the education sector. She has taught English Literature and Communication Skills at undergraduate and postgraduate levels and has contributed to curriculum design and textbook development for schools at the national level. She has been engaged with skill development for youth and edtech driven educational initiatives for young learners. Dr Singh has authored several books on Communication Skills and English Language Teaching and her literary translations from Hindi to English have been published over the years.
She currently advises on edtech initiatives for language teaching and life skills programs both in India and abroad
Dr. Karan Thakur, Trustee
Vice President, Operations & Communications Indraprastha Apollo Hospitals, New Delhi
Dr. Karan Thakur serves as the Vice President – Public Affairs for the Apollo Hospitals Group, Asia's largest integrated healthcare provider. Dr. Thakur is a seasoned healthcare administrator with wide experience in the field of health policy, hospital operations, healthcare projects, health communications and strategy.
In his current role, Dr. Thakur is part of the Group's expansion initiatives, public policy engagement & sustainability initiatives. Based out of New Delhi, Dr. Thakur is a well- respected columnist and podcaster who has covered subjects ranging from health policy, healthcare reforms and growth and development of the Indian healthcare ecosystem.
Dr. Thakur is an alumni of the Manchester Business School, University of Manchester, Indian Institute of Management, Bangalore and National Law University, New Delhi.
Arjun Thakur, Trustee
Vice President, Enterprise Risk Analytics - Global Financial Crimes, Bank of America, New Jersey, USA
Arjun Thakur is working in the financial sector for various large American banks in the greater New York area with a focus on stress testing and technology implementations. He has been a Manager at Ernst & Young where he consulted clients at Deutsche Bank and JP Morgan Chase.
In his current role, Arjun is a Senior Project Manager in the Global Financial Crimes group for Bank of America. He is an experienced senior manager and analyst with a demonstrated history of empowering his teams to deliver quality work products.
Arjun has volunteered his time tutoring immigrant children. An avid technologist, he has a deep interest in education and education.